Pesto Ricotta Pizza with Potatoes, Leek, Red Onion and Fig flavoured Balsamic Cream. Pesto and ricotta make a perfect creamy base for your pizza, but can also be used as a dip or a meat sauce. This is a very interesting combination of savoury and sweet ingredients on thin pizza base covered in creamy aromatic pesto sauce.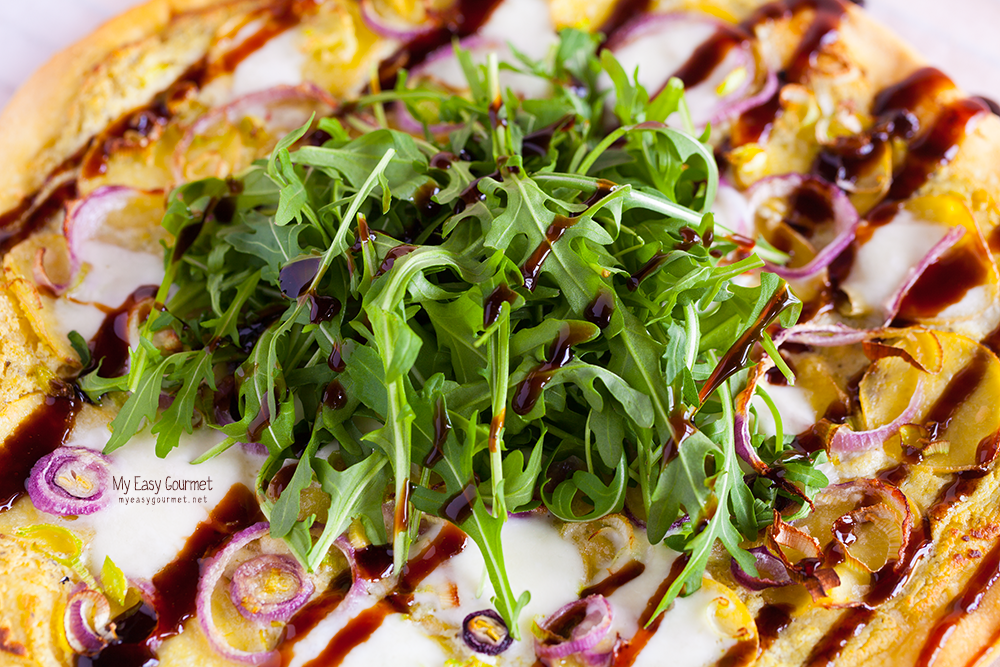 Ingredients
1 pizza base, see recipe here
3tsp pesto sauce, see recipe here
3tbsp ricotta cheese
1,5tbsp olive oil
2 baby potatoes, thinly sliced with the skin
1/2 red onion, thinly sliced
1/4 leek, thinly sliced
70gr. pecorino cheese
1/2 mozzarella di bufala
a handful of baby arugula leaves
Fig flavoured balsamic cream
Freshly ground black pepper
Directions
Preheat the oven on maximum heat for about 30 minutes. Place the pizza stone on the bottom of the oven, if you're using one.
In a small bowl mix the pesto sauce, the ricotta and the olive oil. Season with some pepper.
Roll out the pizza base and spread the pesto sauce evenly.
Cover the sauce with a layer of potatoes and top the pizza with the onions and leek. Spread the pecorino cheese.
Bake the pizza placing the tray directly on the bottom of the oven and bake for about 7-8 minutes.
Two minutes before it's baked, shred the mozzarella with your hands and add it to the pizza.
Remove the pizza from the oven, let it rest for 2 minutes and top it up with arugula leaves and drizzle some balsamic cream.