Caprese Tower – Stack to Impress. Another Italian classic we can't get enough of. The hardest part of this recipe is cutting the mozzarella without eating it on the spot and I usually fail on this, so always have an extra one in hand. Had a go with a burrata but unfortunately the gooey centre isn't easily cut and won't work on this tower version of the salad, but would be perfect if you lay the moz slices and tomatoes flat on a plate.
In the pesto recipe you can replace or mix the pecorino cheese with some parmesan, it adds a subtle sweet taste to it.
The assembly takes a bit of patience and steady hands – I have neither, so this task can be indeed easily accomplished. Don't forget to let the mozzarella slices dry on kitchen paper for a while before using them so that the liquids are absorbed.
If you're looking for more pesto inspiration, check the recipes below: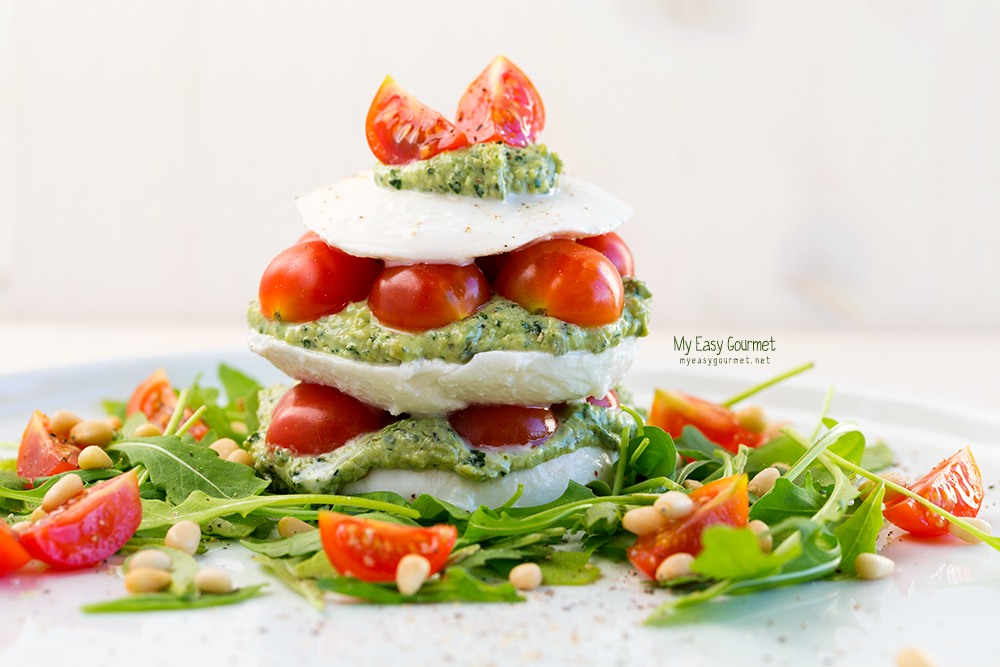 Ingredients
→a handful of basil leaves
→2tbsp grated pecorino cheese
→2tbsp toasted pine nuts
→2-3Tbsp olive oil
→ 3Tbsp ricotta cheese
→1 garlic clove
→Salt and pepper
30 cherry tomatoes – approx
80gr. arugula leaves
a handful of pine nuts
Directions
In a food processor mix all the pesto ingredients and pulse till smooth. Check the consistency and add more basil, olive oil or ricotta to taste.
Cut the mozzarella in slices and let it dry out for a while on kitchen towel.
Cut the cherry tomatoes in half.
Place one mozzarella slice on a plate, spread some pesto, cover with the tomatoes – cut side facing down and repeat.
Lay the arugula, pine nuts and remaining tomatoes around the tower and drizzle some olive oil and the remaining pesto.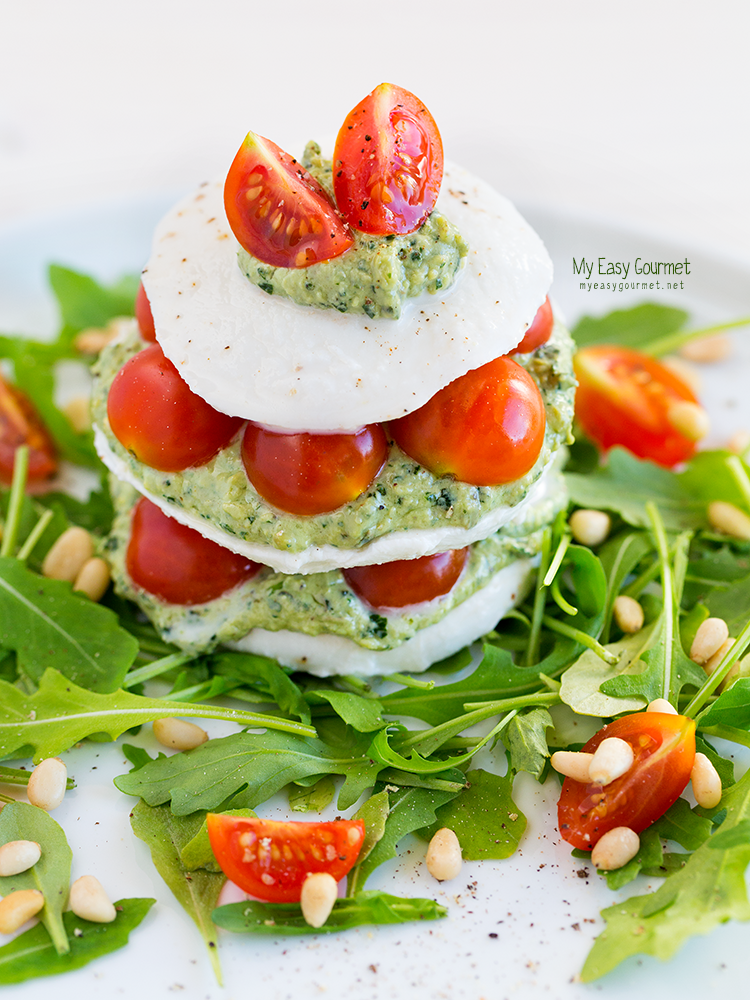 SaveSave