Steamed bao buns three ways: beef tagliata, pork belly and chicken. Once you've mastered the art of making your own pretty, fluffy bao buns, it's time to fill them up. Endless options, just use your imagination or get some inspiration from the ones presented below. I used beef tagliata, pork belly and chicken breast.
Do not forget to marinate your meats, preferably from the night before or, if you don't have as much time, for 2-3 hours before cooking: You can braise the chicken in milk or buttermilk and spices and the beef and pork in olive oil, wine leftovers and spices. I try different combinations every time.
I also rubbed all three meats with spices right before cooking, nothing fancy, just salt, freshly ground pepper, cayenne pepper, oregano and garlic powder. Ok, and some truffle powder on the beef. I cut the chicken and the pork in bite-size pieces before cooking and the beef afterwards as the tagliata is very thin sliced and only takes about 2 minutes to cook on each side.
Heat up your pans, in each one add 3 tablespoons of olive oil and 1 tablespoon of sesame oil – optional but gives a great taste and cook the chicken and pork for about 5 minutes depending on the size of the pieces and the pan temperature and as said above, the beef for 2-3 minutes on each side.
If you're looking for the bao buns recipe, click here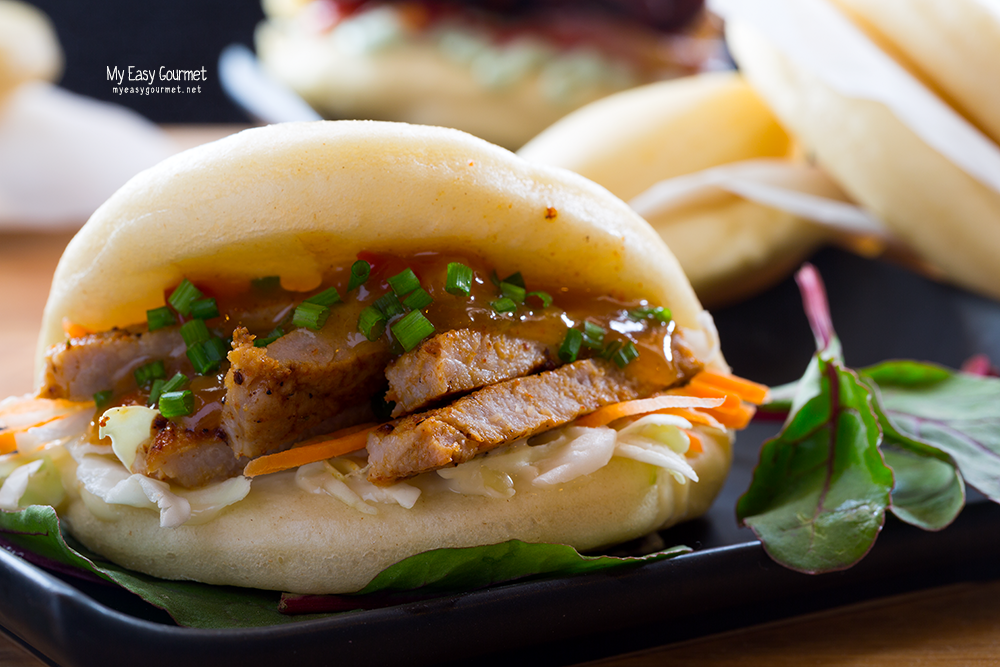 Beef Bao Buns
Spread some truffle mayo on the bottom bun.
Cover with beetroot leaves.
Top with the beef.
Add some sun-dried tomatoes – I used the ones marinated in balsamic vinegar
2. Pork Belly Bao Buns
Garlic mayo on the bottom bun.
Cabbage and carrot slaw.
Pork belly bites.
Sweet chilli sauce and chives.
3. Chicken Bao Buns
Wasabi mayo on the bottom bun.
Fried onions and red bell peppers. After you remove the chicken from the pan, use the same pan to stir fry some onion and red bell peppers until soften.
Chicken bites.
Top with some cranberry chutney.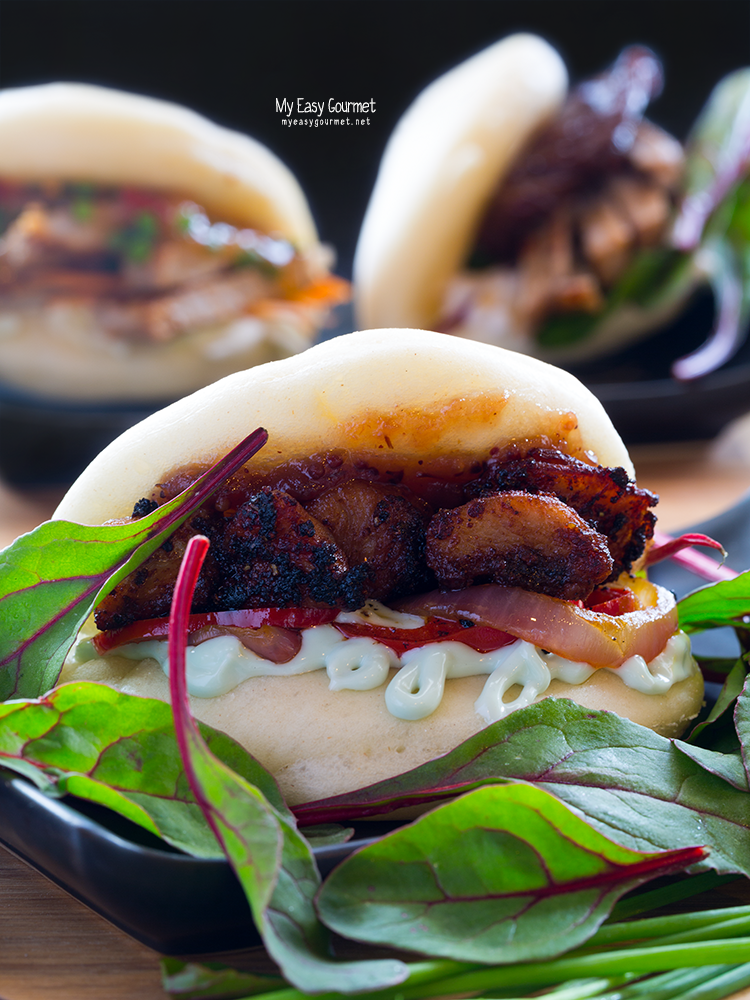 Share with us your bao inspiration in the comments below.
Steamed Bao Buns Three Ways: Beef Tagliata, Pork Belly and Chicken
SaveSave
SaveSave
SaveSave
SaveSave