Simple steamed bao buns recipe. They're fluffy, they're chewy, they're cute and tasty, they're instagram's favourites, so why wait till the next time you go out for dinner and not make them at home?
Not as hard as it may seem, as long as you master the use of your home-steamer, yes, had quite a few unsuccessful attempts, but didn't back down. So carefully read the instructions and follow every step as instructed bellow.
Two things are very very important, one – the water needs to be simmering NOT boiling and two – do NOT open the steamer's lid prior letting the steamer and buns rest away from the heat for 5 minutes. THESE ARE ESSENTIAL – you get what I mean, right? Of course, I originally ignored both and ended up trashing away some weird looking yellow mashed buns – not good.
Now, if you got yourself one of those two layered bamboo steamers – well done, saves so much time! – don't be afraid to use both at the same time: you got this! Most typically, a wok is used as a water bowl, just fill it up so that it covers 1-2cm of the steamer's bottom, be careful not to dump the bottom layer in the water and get your buns wet- it's not going to work. Check the water periodically and add a ladle if needed.
For the filling, well..it's up to you, the options are endless, use your imagination…or follow this link.
Ingredients
480gr. flour
240gr. warm water
1tbsp yeast
2tbsp sugar
1tsp baking powder
1tsp salt
Directions
Add the yeast to the water and let it sit for about 10 minutes.
Sift the flour, sugar and baking powder in the stand mixer using the hook. Add salt and gradually pour in the yeast-water mix.
Let it knead on a low setting for about 10 minutes.
Oil a big bowl, tuck in the dough, cover with cling film and some kitchen towels and let it rise for 2-3 hours.
Form your buns, about a centimetre thick – i used the 0 setting on the pasta maker, very handy. Stretch a bit and fold using a piece of parchment paper in the middle so that top and bottom layers don't stick together. Let them rest -and rise- for another 30 minutes.
Add parchment paper to the bottom of your steamer and cut a few holes so that the steam can pass through. Place your buns in the steamer, leaving enough space between them and from the edges of the steamer so that they don't stick.
Fill up your wok – or frying pan with some water, enough to cover about 1-2cm of the steamer.
Once the water starts simmering, put the steamer in the wok (or pan) and steam the buns for 15 minutes.
Remove the steamer form the heat and let it sit for another 5 minutes – DO NOT OPEN THE LID before that.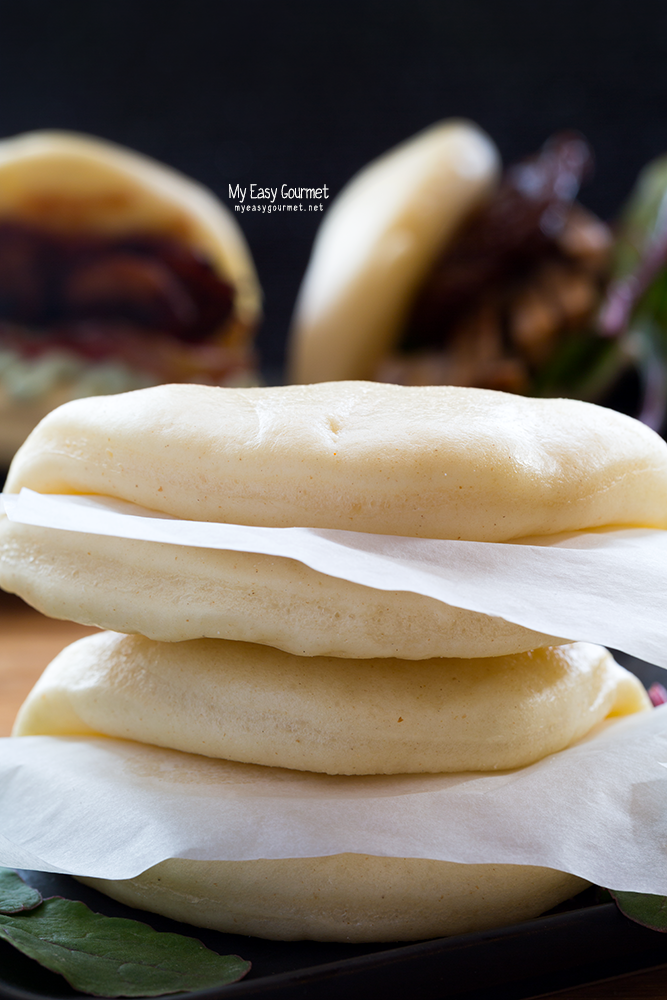 Check out
SaveSave
SaveSave
SaveSave
SaveSave
SaveSave
SaveSave