Shrimps Tempura. A Japanese staple dish we all love. All you need is just 4 ingredients – plus the shrimps of course! You can use either cake flour or all purpose flour and add some baking powder and baking soda to it. It's important for the water to be very very cold, as this is what gives this crunchy texture to the shrimps, so try adding some ice cubes 5-10 minutes before using it.
You must have noticed that shrimps tempura are straight and not curved, right? Not as hard as it seems, just be gentle with the shrimps while pressing them down on both sides with your fingers – using both hands, as it's pretty easy to break them – and we wouldn't want that, would we? And of course, don't forget to devein your shrimps and keep the tail, because it looks good and works as a handle! Now find the right sauce and dip them – double dipping is a must.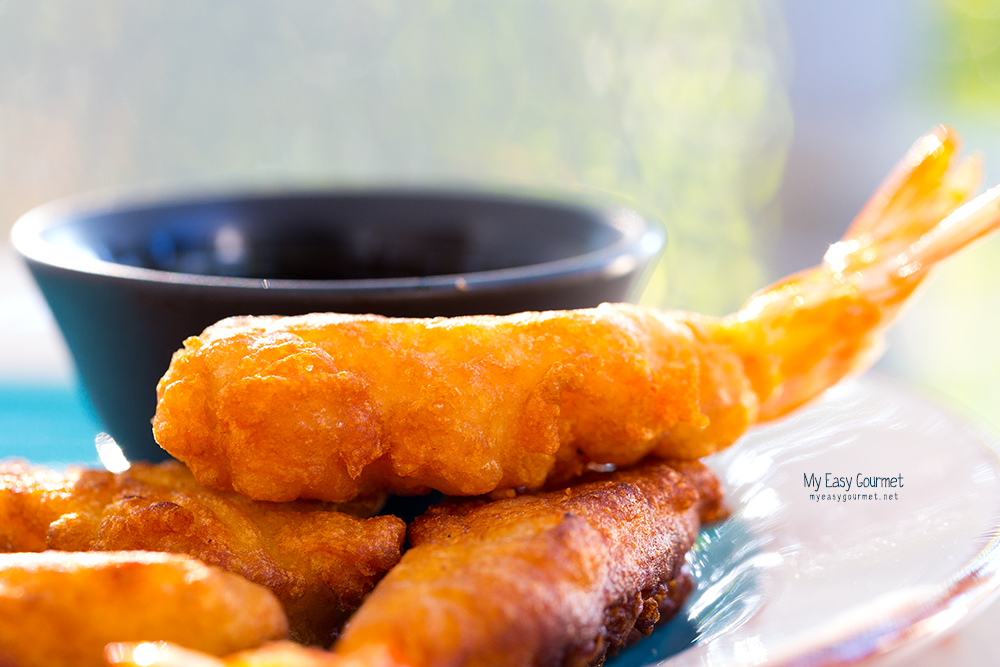 Ingredients
Jumbo shrimps
250gr. cake flour or all purpose flour and 1tsp baking soda plus 1tsp baking powder
2Tbsp cornstarch
80gr. ice cold water
1 egg
Frying oil
Directions
Prepare the shrimps: Remove the head and the shells, leaving only the last one with the tail. Devein them – dip just the tip of a sharp knife and cut lengthwise, then remove the vein. Then carefully straighten the shrimp using your thumbs and index fingers using both hands. Check the following links: How to Peel and Devein Shrimp and How To Stretch Shrimp For Tempura
Mix together the flour, cornstarch, water and egg.Stir with a wooden spoon – you want your mixture to be lumpy.
Heat up the oil to a medium – high temp.
Dip the shrimps into the batter and fry for a few minutes 2-3, until golden brown.
Shrimps Tempura