Santa cupcakes.
Ingredients
for the cakes
250gr. self-rising flour
125gr. butter, room temp.
120ml. milk
200gr. sugar
2 eggs
1.5tbsp cocoa powder
1tsp red food colouring paste (optional)
for the frosting
200gr. butter
300gr. cream cheese
75gr. icing sugar
¾tsp vanilla extract or 1/3 vanilla pod
strawberries
Directions
–cupcakes–
Preheat the oven, air 170 °C.
In a large bowl mix the butter and sugar.
Add the eggs, one at a time.
Add the milk and the food colouring.
Add the flour gradually.
Fill baking cups 2/3 full and bake for 18–20 minutes. Check by inserting a toothpick in the center of a cupcake. If it comes out clean, your cupcakes are ready.
Wait til they cool down before decorating with the frosting.
–frosting–
Mix the butter and cream cheese in a large bowl.
Add the vanilla (extract or seeds).
Add the icing sugar gradually.
–decoration–
Choose cone shaped strawberries and cut off the top and bottom.
Place a small amount of icing on the center of the cupcake, put the strawberry on top of it and garnish with frosting around the strawberry and on top of it. Alternatively, cover the cupcake's surface in frosting and place the strawberry in the middle.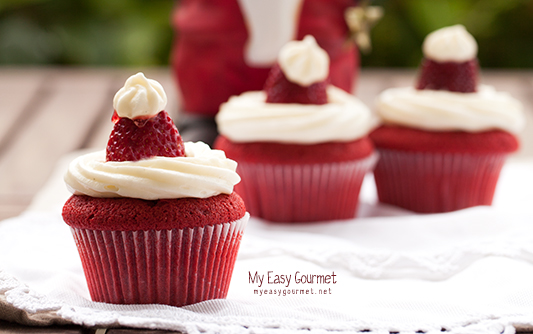 Santa cupcakes