[slideshow_deploy id='7880']
Ingredients
For the soup
2kg. tomatoes or big plum tomatoes
8 garlic cloves, unpeeled
6 tablespoons olive oil
1 big onion
2 tablespoons oregano
4 teaspoons sugar (preferably brown)
2 tablespoons butter
500ml. chicken stock
3 tablespoons cream milk
salt and pepper
For the parmesan crisp
Directions
The soup
Preheat the oven to 160°C degrees.
Cover the baking pan with a baking sheet and aluminum foil on top of it (makes for easier clean up).
Cut the tomatoes lengthwise and arrange them in the baking pan.
Drizzle 4 tablespoons of olive oil on the tomatoes and season with salt and pepper.
Roast for 1 hour.
Remove the baking pan from the oven. When tomatoes cool down a bit, peel the garlic cloves.
Chop the onion (preferably in the mixer).
Cook the onion in 2 tablespoons of olive oil for a few minutes in a large pot, then add the oregano, sugar and butter. Stir well until the onion is brown.
Prepare the chicken stock (one cube in 500ml. of boiling water).
Add the tomatoes, the garlic and the chicken stock and let them cook covered for 20 minutes in medium heat. Stir occasionally.
Place an immersion blender into the pot and puree the soup. If you don't have one, use the mixer (you'll have to repeat a few times). Make sure the soup has no chunks left and it is smooth and creamy.
Pour the soup back into the pot add the cream milk and stir well.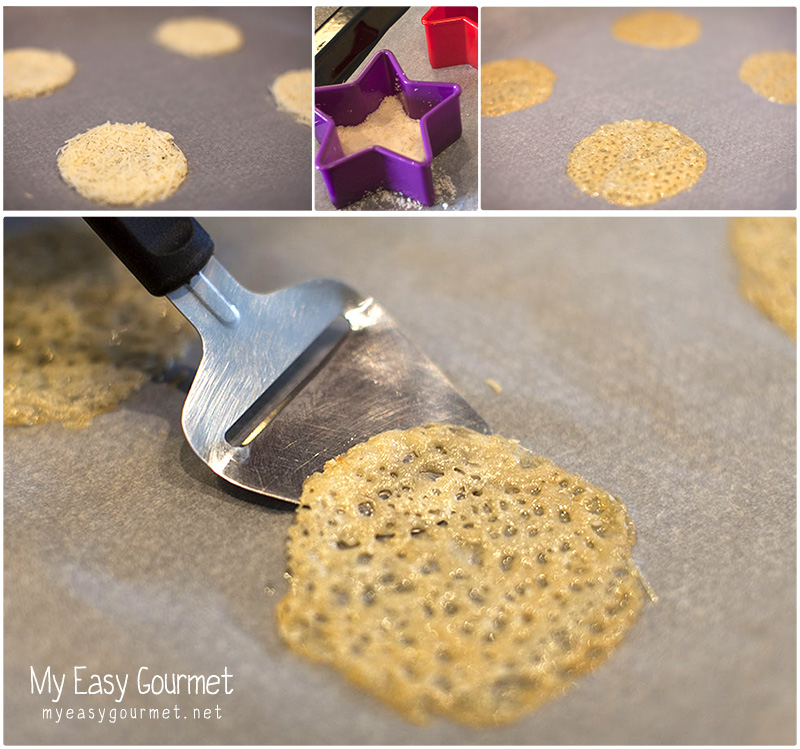 The parmesan crisps
Preheat the oven to 180 C degrees.
Place a greaseproof paper on a shallow baking dish.
Take a biscuit cutter and fill it up with parmesan. Press down the cheese and shape it. Repeat.
Bake until parmesan melts.
Remove from the oven, let them cool down a bit and lift them gently with a spatula.
Serve the soup and gently place one crisp on top.
Tomato soup with parmesan crisp