Pumpkin Spice Latte Cupcakes.
Ingredients
For the cakes
250gr. self-raising flour, shifted
260gr. pumpkin puree
125gr. butter, room temp.
120ml. milk
200gr. sugar
2 eggs
1tsp vanilla extract
1tbsp espresso powder
1tsp pumpkin spice mix (see above)
For the frosting
100gr. butter
200gr. cream cheese
300gr. icing sugar, shifted
1tsp. vanilla extract
1tsp espresso powder
For the cinnamon crumbs
50gr. brown sugar
60gr. all purpose flour
60gr. butter, melted
1tsp cinnamon
For the pumpkin spice mix, combine:
2tbsp cinnamon
1tbsp ginger
2tsp nutmeg
1tsp clove
1tsp white pepper
Directions
The cakes
Preheat the oven, 170 °C.
In a medium sized bowl, combine the flour, espresso powder and pumpkin spice mix.
In a large bowl, mix the butter and sugar using a hand or a food mixer.
Add the eggs, one at the time.
Add the milk and the pumpkin puree.
Add the flour mix gradually.
Fill baking cups 2/3 full and bake for 18–20 minutes. Check by inserting a toothpick in the center of a cupcake. If it comes out clean, your cupcakes are ready.
Wait til they cool down before decorating with the frosting.
The frosting
Mix the butter and cream cheese in a large bowl using a hand or food mixer.
Add the vanilla extract and espresso powder.
Add the icing sugar gradually.
The cinnamon crumbs
Mix all the ingredients together and spread the mixture evenly on a baking paper covered tray.
Bake for about 10-15 minutes, till it turns golden and crispy.
Decorate your cupcakes.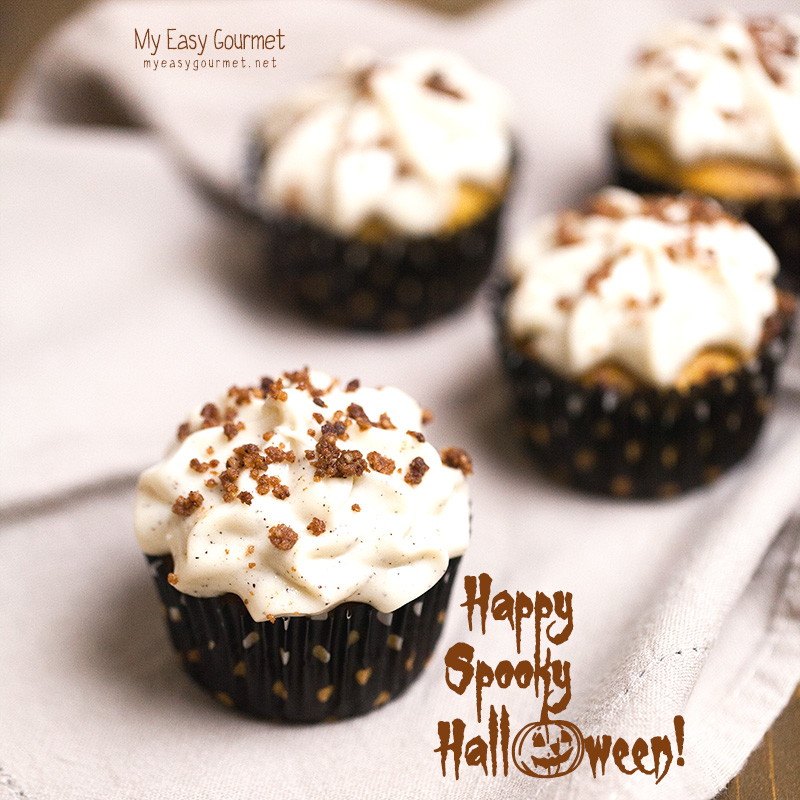 Pumpkin Spice Latte Cupcakes
SaveSave